Database Archive
We have been archiving various types of datasets generated by domestic researchers in downloadable forms. The archived datasets are available through "Life Science Database Archive". In order to make the datasets widely used, we provide them with detailed descriptions (metadata) in a unified format, explicit license statements using the Creative Commons licenses, and viewers with search functionality. Since FY2011, the four ministries have been cooperating in archiving datasets by following the guidelines NBDC had issued.
Examples of cooperation
1. "Open TG-GATEs" (Ministry of Health, Labour and Welfare)
The database of gene expression and toxicity after exposing rats or rat and human liver cells to 170 compounds.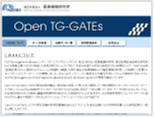 2. "The Rice Growth Monitoring for the Phenotypic Functional Analysis" (Ministry of Agriculture, Forestry and Fisheries of Japan)
The database of comprehensive phenotypic analysis of rice growth acquired from the system which captures images of rice during the period from budding to flowering at fixed time intervals.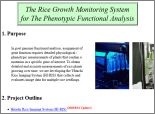 3. "DIAM" (Ministry of Economy, Trade and Industry)
The database of information of microbes about identification and classification, safety and applications.